Hypercolour: Marvin EP [ INNAR012 ]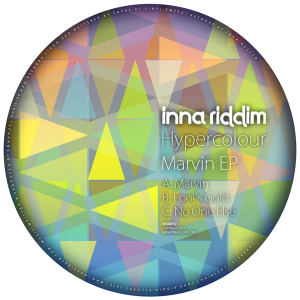 'Three word description? Ring. The. Alarm… It is impossible' (says the reviewer at The Ripe—and who are we to argue?) 'to listen to the Marvin EP and not be impressed.' On this three-track EP, Hypercolour bring together influences of breakbeat and rave, UKG, house and footwork to produce something unique and irrepressibly floor-moving. Out today on all the main digital music outlets, it's the twelfth release on Inna Riddim Recs, and it's big.
The most rarified track on the EP, 'Marvin' is suffused with the vibrant colours of the post-dubstep palette: angelic plucked strings, floaty pads dripping with reverb, and great swathes of reverberant sound that glide over the eardrum with a rubbery smoothness. Mangled and pitch-shifted vocal samples evoke a rose-tinted euphoria, while there's a Bristolian influence in the purple funk keys. One to bring the smiles back to rinsed-out ravers as the sun comes up.
A mêlée of sirens, demented discords and decontextualised vocal samples form a dark carnival of sound, riding a massive steampunk locomotive of rhythm, powered by the thick blasts of bass buzzing through its pistons, propelled unstoppably forward on great wheels of lurching breakbeat. 'Fool's Gold' is the anthem for a rave on the eve of Armageddon: its brutal switch-ups and the deliberately unresolved tension between expansive and claustrophobic elements recall the prelapsarian intermingling of dark and light elements in old skool hardcore, before the division into happy and junglist tribes, albeit in a mode that's utterly up-to-the-time. Heavyweight tune for the adventurous selector.
Hybridity is a difficult trick to pull off: graft the elements together without the requisite deftness of touch, and you end up with a Frankenstein's monster, the stitching all too visible. To hear it done properly, turn the headphones up loud on 'No One Else': a globular, half-submerged bassline, straight out of 90s dark garage, bumps up against contemporary synthetic-funk flourishes, a driving, complex beat that plays off a 4×4 kick, a hyperactively syncopated snare and hard-swung hihats against each other, and a timeless, soulful vocal sample.