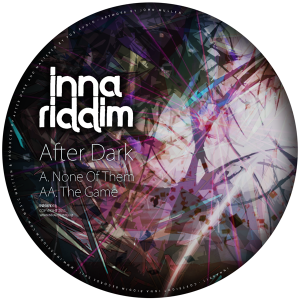 Following his appearance on Panoramic EP Vol. 1 [ INNAR005 ] After Dark returns with a release in his own right delivering another slice of 130bpm bruk'out business for Inna Riddim.
The lovechild of babylon-defying rudeboy braggadocio and the slinky garage sensibility of the 21st C dancefloor, 'None of Them' is the soundtrack to a dream-sequence car chase down the inner-city back- streets in an open-topped SUV with girls in leopard print standing up dancing in the back, spliff butts flicked out the window and burning the eyes of the hapless police in pursuit. Tweaked vox nestle in the intro among muted pads and crafted hihats. The snares, crisp and contained, hint at the energy that's lurking behind the scenes, while two overlapping soundboy samples underscore the rhythm's funky swag- ger. In a low-key moment, a stubby kick counts down the beats, playing footsie with the sub; then the fuzzy lead synth bursts out in a bouncy, irrepressible hook. Raucous ruffage to get the steppers skunking.
'The Game'; a bruiser of a tune, this one: funky snares front and centre, the tight drum arrangement contrasting with a loose, sputtering synth refrain. It's an inter-species boxing match at the dusk of civilisa- tion: the champion of humanity is a nanotech-enhanced brute at the peak of his powers, as the first bassline, dry and uncompromising, pummels the down-beat with a one-two punch action; the second, reptilian and many-limbed, is more skittish and nuanced, bringing complexity to the rhythm of the track with a clipped and syncopated corrugation of the main beat. The eerie atmospherics suggest that this isn't just a friendly bout, it's a fight to the death: gri tty, bare-bones and devastatingly effective on the dance- floor.