Altitude 507 :: 04 :: with Severity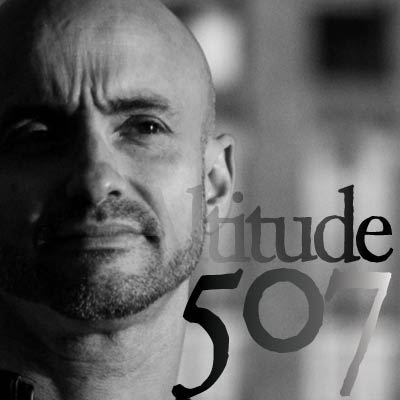 This episode Severity braved the chilly mountain air to come to the Altitude 507 studio and drop a fantastic guest mix of all his own original productions (and a couple of his own remixes). Brazilian by birth, Severity is a familiar presence beind the decks at Sydney's drum&bass parties, and his productions (which are mostly on the melodic, liquid side) have gone from strength to strength.
Keep an ear out for his track 'The Journey' featuring MC Astro, forthcoming on Liquid V – the first time he's played it is on this podcast episode – as well two tracks forthcoming on Unchained, 'Broken Hearted' and 'Fakeworld' – the latter the last track of the mix, which demonstrates a new direction for his sound, branching out into footwork-inspired territory.
As always, there's also plenty of jazz, soul, dub techno and reggae, some of which are also local productions (as part of the local spotlight segment) – as well as four key tracks Severity picked out as formative in his own musical journey. And – another exclusive – Kobra Kai's 'Push', forthcoming on Inna RIddim.
Get it on your headphones!
TRACKLIST
Toots and the Maytals – Night and Day
Coast – Or Not
James Chatburn – Darling I Missed Your Call
LKGD – Reptile
Die Erzeugung – Anschluss 3
Yagya – Snowflake 2
Source Invisible – That Which Is Into the Perpetual Was
Babe Roots – Bless Me (feat. Baba Ras)
Rita Lee – Caso Serio
Doves – Rise
O Rappa – Favela
Kosheen – Slip and Slide (Suicide)
SEVERITY: GUEST MIX
Lauren Neko – Turn the night (Severity remix)
Severity – Delta Funk [Influenza Media]
Severity – The Journey feat. MC Astro [forthcoming Liquid V]
Severity – Broken Hearted [forthcoming Unchained]
Severity – Lady [dub]
Severity – You make me feel [Think Deep Recordings]
Severity – Tapestry feat. Tali [Fokuz Recordings]
Severity – Head in the Sand [Think Deep Recordings]
Severity – All Those Times [Liquid Tones]
Severity – Migraine [Force Recordings]
Severity – LOVEINT [Soul Deep Recordings]
Severity – Flying High [Celsius Recordings]
Severity – Subsonic Love Song [Fokuz Recordings]
Severity – The Grudge [Soul Deep Recordings]
Severity – Eventide [dub]
Severity – Young B [dub]
Severity – Analysis Paralysis [Celsius Recordings]
Severity – Strictly Speaking [Think Deep Recordings]
Lyndon Jarr feat. Severity – Whiteboy [Soul Deep Recordings]
Severity – Spray Cans and Caviar [Think Deep Recordings]
Severity – Metamorphosis [Celsius Recordings]
Severity – Irrational Fear [Odyssey Recordings]
Severity – Fakeworld [forthcoming Unchained]
Kobra Kai – Push [forthcoming Inna Riddim]
Podcast: Play in new window | Download