Vice Versa: The Red Curtain EP Pt. 1 [ INNAR023 ]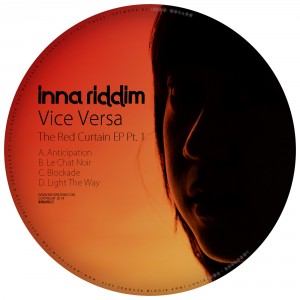 Hailing from Sydney, Australia brothers Rajesh & Rohan Deshpande are Vice Versa. Known for their funky, deep and rolling sounds, they entered the global world of Drum & Bass through a chance linking with LTJ Bukem in 2002 and have since gone on to see releases on Marky's Innerground, Zinc's Bingo Beats and Makoto's Humanelements. Having each lived in different parts of Asia over the past few years, including Tokyo and Beijing respectively, their sounds are ever changing and shifting with their thoughts, moods and experiences. One thing always remains however: their passion for making deep electronic music that will simply move you.
'Anticipation' sets the tone for the EP with a serene yet metallic vibe: aluminium pads and a fine mesh of steely synths arched over a flutter of hihats. Blunted kicks and hints of a corrugated bass texture lock in the groove, while a melodic woodblock connects the rhythm with the atmospheric heart of the tune, replete with guitar licks heavy on the delays and vibralto. A lemon sorbet of a track: sublime yet sharp.
Vice Versa's liquid drum&bass heritage comes through In 'Le Chat Noir', beginning with a deceptively simple beat and an organic, ascending bassline. It's all about the jazz: slow trumpet solos and meditative keys drift forward in counterpoint with the rapidity of the beat and its syncopated shuffle of tight hihats. It's classic Vice Versa: slinky junglist jazz vibes.
We're in very different territory in 'Blockade', an utterly contemporary tune which takes as its reference point the work of the early electro-funk pioneers: strutting astro-synths pick their way through tightly controlled and gated beats, with two massive snare/claps putting the weight on the offbeats. B-boys on the moon.
'Light the Way' ramps up the rhythmic pressure from the get-go and never relents. An ominously processed and fragmented vocal sample is sliced in and out of an insistent tattoo of drums, augmented by snippets of a break creeping through. Soaring pads, fizzing synths and a warm cushion of bass round out the track, but the spotlight remains on that rampant beat. There's no stopping this one.