Vice Versa: The Red Curtain EP Pt. 2 [ INNAR024 ]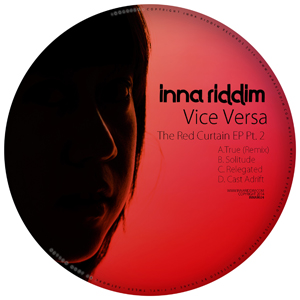 The serene and spacious atmosphere of the first part of the EP carries over into the second on 'True (Remix)', with its processed snatches of vocal, refracting and echoing over a heartbeat of muted kicks. Percussive rhythms intersect through waves of sustained synth, evoking the progress of a barge through a swarm of cicadas down a forest river at night. Smooth and sultry.
There's a certain timelessness to 'Solitude': something about the expansive pads and the twinkle of offbeat tweaks recalls the earliest incarnations of electronic music, while a refrain on delayed keys gives the tune an old skool flavour; but the crisp, punchy breakbeat over a patter of hihats reminds us what time it is. The vibe is still laid-back, but we're into moodier terrain here.
Swirling synths and sharper, more metallic sonic textures abound in 'Relegated'; there's a touch of melancholy about it, a sense of distance, as if we're onboard a satellite orbiting the stratosphere and looking down as one city lights up after another in the oncoming dusk. A firmly tessellated sequence of beats lock in the rhythm. Ice-cold but humane nonetheless.
'Cast Adrift' closes out this two-part EP in style: a reverb-drenched guitar lick anchors the tune, and Vice Versa's signature warm, enveloping synths are present, but this track is all about jazz, specifically the moment when jazz turned a corner and opened the way for today's recursive, meditative grooves. It's not jazz horns, this time, but drums: a sustained, syncopated rhythm, rattling on snare and hihat, that remains open and exploratory throughout.