ReDream: With You EP [ INNAR018 ]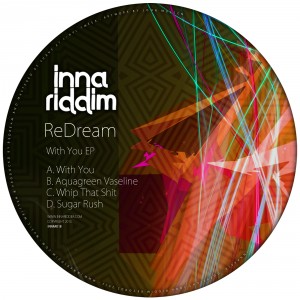 Imagine a scientist; in the lab blending rhythmic compounds together. Earthy elements evolved from classic 60s/70s breaks rearranged to collide with 808 grooves. Melodies expressed more from the heart than from the cortex – straddling House, Techno, Garage and Jungle. ReDream unveiled his experiments in sound, and we screamed 'Eureka!'. Qualifying with over 15 years of Drum & Bass influence (from Perth to Sydney promoting Break & Enter events and maintaining weekly duties on Sydney's FBi radio) ReDream finds a comfortable foothold for unbridled creativity in this new creative soundscape.
The entrée to the EP is 'With You', a delicious confection of melt-in-the- mouth lightness. A decontextualised and filtered vocal sample, simultane- ously intimate and impersonal, rises from a background of handclaps, hihats and twinkling synth flourishes. The kick drum comes in with a housey 4×4, but its simplicity is belied by a glimpse of the tail end of a break, as if through an ajar door, hinting at rhythmic complexity to come. The chopped and gated beats, interlocking with the bass, give the track some percussive substance, but never at the cost of weighing it down: the stereo-tweaked delays and the all-enveloping embrace of the pads keep it light and funky: a delectable taster of the EP as a whole.
We're into harder rhythmic territory with the primo platti, 'Aquagreen Vaseline'. The bold kicks and narcotic keys are still there, but there's a more ambiguous blend of euphoria and longing in the refrain, the sounds are fuzzier and more angular, and the innocence of the first track has morphed into a sexually charged energy amplified by a provocative sequence of sultry rap samples. The second drop packs a bigger punch, ratchetting up the pressure with heavily gated synths and a raggamuffin sample. If only eating your greens could always be this good…
The main course, 'Whip That Shit', begins with a deceptive simplicity: just kicks, hats and ReDream's signature warm, opalescent pads. But just as you think you know where it's going, it switches up to spiralling FX and an indecipherable vocal sample in a delay and reverb hall of mirrors. Then it drops into something else again: a low-slung, moodier rhythm over a suspenseful bassline, like driving down a tunnel with a low ceiling, with a haunting sequence at the high end picking its way through the drums: a sonic ray from some alien presence overhead, tracking your direction of travel. ReDream never abandons his subtley, but this is the one for the 1am slot.
No meal is complete without a dessert, and 'Sugar Rush' delivers on the promise of its name. The characteristic hedonism of ReDream's sound is given free rein here: enveloped in a warm expanse of opiate synth, a sprightly house beat gives way to a more fragmented rhythm and a loose, hip-shaking bassline, while a bouquet of overlapping vocal samples frays and disintegrates, snippets falling into the aether like stray petals. A decadent treat to close out the EP and indulge your ears.