Mike G: The Shore EP [ INNAR015 ]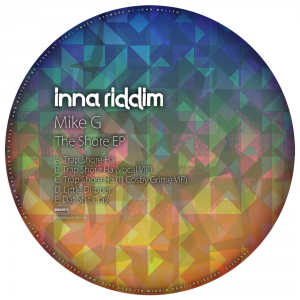 First encountered via techno-doused incendiary vibes, Mike G's productions seemingly emanated straight out of the darkest corners of warehouse, as if strategically placed bass-bins announced his arrival and covered every inch of our eardrums with erratic kick- drums and sub bass. Since first contact with the Los Angeles based DJ/producer, Mike G has polished his sound with confidence and prowess into a sophisticated amalgamation of fetching styles. Unabashedly we confess the roots of Mike G's sound stems from scenes exotic to Inna Riddim's UK-bred stance on dance music: from Juke to Footwork for the 160bpm tempo, via Trap and Jersey Club for his 140bpm output, delving head first into exploration of novel sonic archives immediately set us ablaze.
Currently blowing up the underground club music community with his signature heavy bass sound, Mike G is fashioning a following with a recent barrage of originals/remixes and his high energy live performances. The Shore EP aptly jumps between tempos and styles, showcasing pedigree and tipping the hat in an original fashion to pillars of US underground, as well as enlisting Seattle-based head- honcho of Car Crash Set and purveyor of all things Future Bass, Ill Cosby, for our first ever remix.
Trap Shore Ha is charged with rising tension: masked dancers in a face-off across a moonlit ballroom, a crowd circling around them as they drop into dramatic stances. The staccato shouts of the antagonists echo and are absorbed into a mesmerisingly repeated vocal refrain, while delayed synth chords form a refrain on the off-beat that give this tune a subliminal depth of rhythm. Then there's a militant snare rattle, and the trap-style beat drops in a flurry of skittering hats and a skewed kick-drum tattoo against a tactile field of sub bass. Ritual confrontation on the dancefloor.
The Vocal VIP sticks to the same vibe but gives it an extended workout, complicating the original's sparse- ness with additional layers of chopped and pitch-bent vocals, for a fuller sound. But the Ill Crosby Grime VIP takes the track in an entirely different direction rhythmically: the original's kick-drum orientation is exchanged for an emphasis on lead stabs and snares, and a brutally front-footed grime-style rhythm.
The pace jumps up to 160BPM with the final two tracks. Little Dripper, an atmospheric, dubbed-out take on juke, is an after-party on the beach, taking the rave out to the 'shore' of the EP's title, with spacey endorphin-rush pads and subtle allusions to the sea, pebbles rushing back as a wave goes out, and then crashing in again on the drop—is that a seagull at the end of the breakdown? It's all about lying back in the sand with a piña colada and shades on as the sun comes up, and letting the sprightly kick drum and rapid-fire hihats do the moves for you.
Dat Shit Cray ends the EP on a darker note, locking its complex, brittle drum patterns in a tight rotation around a central core of whirling vocal samples, repeating and varying up the pitch with an obsessive quality—voices in the head—while the carousel of FX and keys spins with a tight intensity. Blindfold and spun around, when the drums fall away, the claustrophobic trail of delays are no help in re-orienting yourself in this hurricane of a tune. This is the other face of the shore, evoking the chaos of the storm-hit east coast: to be caught between two mighty forces of nature.