Inna Riddim: X LP – Vol. 2 [ INNAR030 ]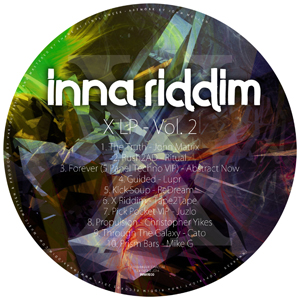 Our last release for 2014, X LP Vol. 2—the final instalment of the X LP release series—brings the ten-year Inna Riddim celebrations to a close, with a selection that runs the gamut of bass music in breadth of diversity, yet also manages to go deep, with some the most original tracks on the label thus far.
It starts with a big bang: John Matrix's 'The Truth' is a beast of a tune. Stark, uncompromising whiplash beats, tearing leads, and thunderous bass: it's pure tightly-wound aggression in drum&bass form, not for the faint-hearted. Total gear shift with 'Rush2AD': this is Ritual's most daring and unique track to date. Simultaneously deconstructed and intricately crafted, it's unclassifiable, as if it belongs to a genre all of its own. Yet it alludes to many other moments in the continuum of bass music: the oceanic sub punctured by percussive spikes at the high end recalls the spaciousness of early dubstep; there's a hint of juke in the hihat patterns and obtuse, unpredictable polyrhythmic arrangement of its elements; and there are junglist touches too—not just the echoing sawtooth oscillators, but the underlying aesthetic. (tl;dr — This is the real shit right here.)
Abstract Now's 'Forever (5 Panel Techno VIP)' introduces a more brightly coloured sonic palette, retaining the (Everything EP) original's ascending ravey riffs and vocal samples but replacing the juddering breakbeat with a squelchy 4×4. Lupr's 'Guided' gets up close and personal with a warm, sultry sound and a sexy, swaggering garage beat designed for dancefloor bump and grind. Kaleidoscopically multi-layered, ReDream's 'Kick Soup' combines a feisty breakbeat, exotic percussion, sampled snippets of sung vocals and grime, spiralling keys and lush atmospherics, to create a sound that's full and funky while keeping each element distinct and sharp.
Then we're back into darkness as Tape2Tape comes correct on 'X Riddim', a moody foray into tech-house. Juzlo keeps it rough with 'Pick Pocket VIP', reworking his militant grime track from 2011's Panoramic EP, with fuzzy leads, rude basslines and dramatic sweeps. 'Propulsion' stays on the 140 tip, but Christopher Yikes takes us into more atmospheric territory: jittery high-end textures in counterpoint to a bassline swaying under a lurching halfstep. Cato's 'Through the Galaxy' takes a more bare-bones but highly effective approach, vocal samples echoing through rattling percussion and an irresistible stepping beat. The LP closes out with Mike G's 'Prism Bars', syncopated keys weaving in and out of jittery beats, a perfect confection to cap this feast of bass music.