Hutch & Rehan: Ascendancy / Koryu [ INNAR022 ]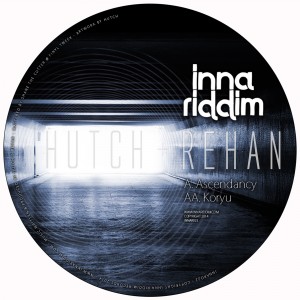 The spine of Sydney's live electronic band, Kobra Kai. Hutch & Rehan have worked together as drummer and synth / guitarist respectively for over ten years, combining their electronic production and musicianship on stages around Australia. Here is their own electronic production chamber. And it's devastatingly dangerous! Dark and broody Drum & Bass, like a solitary wintery afternoon roaming the highway, windows pulsating till near collapse from the sub and a percussive depth to crack any windshield.
Koryu begins slow and seductive, open hihats and drum fills rising through a mist of serene atmospherics; but before long a sinuous, organic bassline and a refrain of tweaking, descending triplets announces the arrival of the main groove: and a loose, rollicking beat powered by a big splashy snare, surging forward like a drum&bass locomotive with a knotty, rasping synth following in its wake, snapping at its wheels like a mad dog that won't be shaken off. Powerful and classy.
With Ascendancy, the duo enter grimier territory, with an Eastern vocal sample resonating eerily amid gnarly FX and droning pads punctuated by bass stabs and percussive pre-tremors of the oncoming onslaught. Then in a welter of drums and and filter sweeps, we're locked in to an energetic and low-slung beat, backed by an undulating, future-funk bassline, with a sizzling, tearing synth in take-no-prisoners mode. It's a thrilling ride, an assault weapon of a tune to shake up the 2am crowd on the dancefloor.
Check out the official music video, and full tracks to preview below.