Altitude 507 :: 06 :: with Selecta Fufu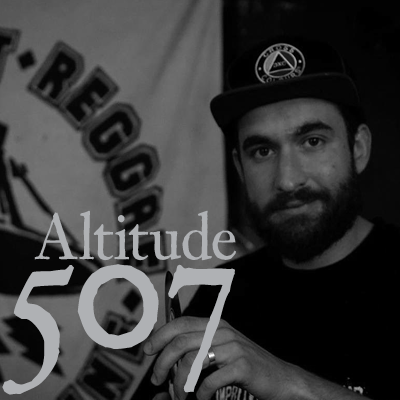 Altitude 507 is back after a brief hiatus, and it's a reggae & dub special this time around. Special guest Selecta Fufu brings a guest selection from ska and rocksteady to heavyweight steppers, including some of his own exclusive original productions.
He also shares his thoughts on sound systems in Europe and Australia, vinyl vs digital, Sydney's reggae dances, and the effects of technology on contemporary life.
Tracklist:
Lokhi Terra – Ronger Duniya
Jacob Miller – Baby I Love You So
Augustus Pablo – King Tubby Meets Rockers Uptown
Junior Delgado – Away With You Fussing And Fighting
Rhythm & Sound – Found A Way
High Tone – Train to Transylvania
Dubkasm – Victory
Improvisators Dub – Children of Dub
The Wailers – Hooligan
The Sensations – Everyday is Just a Holiday
The Blue Busters with Byron Lee and the Dragonnaires – ???
The Pioneers – Starvation
The Tamlins – Hard to Confess
Serge Gainsbourg – Brigade des Stups
Gregory Isaacs – I Can't Give You My Love Alone
Earl 16 meets Jacin – Movement
Adam Taylor feat Rod Taylor – Praises unto Jah
Disciples – Furious Dub
Mighty Prophet – David vs. Goliath
iSt3p – Dub Injection
Rusko and Caspa – King George
Mr Zebre – On the Way
Stepper Allianz – It's a Trap!
Stepper Allianz – Champion Lover
Fufu – Adubisi
Fufu meets Coch – Steppikal Arrakis
Fufu – Step It Up
Count Ossie – Selam Nna Wadada
Podcast: Play in new window | Download